End of Season Allotment Surprises
We are slowly coming to an end of what I would call an average British summer, we have had very few really warm days and have experienced many rainy days during the months we needed it least (July and August). I suppose I can already remove my outdoor cucumber plants to the compost heap as it is unlikely they will crop anything significant, and the outdoor tomatoes will fill the jars of chutney instead of the salad bowl– but I am a gambler like every gardener, and I will try them again next year (and the year after) because I oncehad a really good outdoor crop of these two vegetables and who has the crystal ball to know what next years weather has in store for us!
Nevertheless, there is no visit to the allotment without surprises – it is the first year that I have managed to grow a double courgette – I am just boasting – because it is impossible to purposely grow a double courgette, it just comes by chance, I was rummaging through my courgette plants (with my gloves on as the stalks are ever so prickly) and I suddenly noticed this unusual green bendy object lying on the ground.  [Cutting Tip – I  always cut courgettes off with a knife as I find that if you pull them off, part of them stays behind on the bush and both the courgette and the tip left on the plant, will rot .] 

Another first this year, was that my 10 year old Kiwi tree decided to bear fruit! For years I have been training it into the polytunnel to give it that extra warmth  to encourage it to flower and fruit, but as I was cutting away the excessive growth of this 'mile a minute' climber outside the polytunnel, lo and behold bunches of kiwis were there to greet me! It seems to be that these furry balls prefer neglect!
Birds in my allotment also seem to be getting more exotic – instead of making their nest in the native bramble and hedgegrowth, they treated their young to a Moses Basket with a Mediterranean twist. The parent birds seemed to have squeezed through the gap in my polytunnel and made a nest in the fig tree!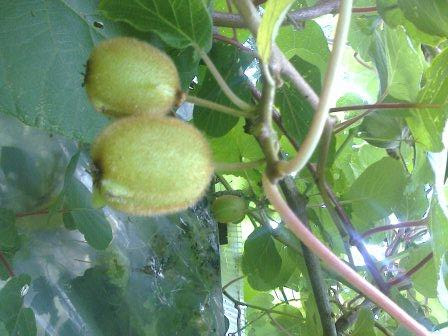 Another wave of excitement was endured last week when we found that an apple tree planted just last year was already bearing a crop of large apples.   I had always wanted a cooking apple that would ripen during August and I would not have to wait for the October  Bramley . After reading the catalogues, I found an apple called Grenadier which was classed as a heavy cropper, tolerant of wet climates, cooks to a pale puree, and most important – ripens in August. It sounded just what I was looking for so I bought and  planted a Grenadier apple  tree during January '16 and this year it has already produced a couple of really large apples during the middle of August!

If your allotment society has an end of year show – make sure you attend. Always enter with something that you have grown yourself, to boost your self esteem. Even if you think you did not grow the longest carrot or the most handsome marrow – shows and contests are  all part of the fun of having and sharing an allotment – and I have often found that a thin spindly specimen managed to win the class – simply because there were no other entries in that class!
To conclude – gardening remains comparable to the small print on all other investments –
'Beware – past performance is no indication of future growth' because who knows what kind of surprises await you on your next visit to your garden? Keep your eyes open and please tell us about them – info@goto4gardening.co.uk
Keep harvesting
Boris

Previous PostNext Post